Purpose
IRIS: Integrating Research in Science, an innovative student-led conference, aims to celebrate interdisciplinary interactions by bringing together the realms of STEM and STEM-related fields. This one-day conference for undergraduates will allow students to promote their research, to network among professors and peers, and to enhance their professional and academic skills with practical workshops. By participating in IRIS, students engage in a collaborative environment that harbors values in creating a strong sense of community. Moreover, by bringing many departments and students with different interests together, students will explore new ideas within a diverse range of fields and be able to delve into the rich progress cross-disciplinary interactions have to offer. We wish for attendees to open their mind and break the barriers that margin STEM fields.
"The distinctions between sciences are artificial – an approach from one area can be applied to another"


-Lee Cronin



---
Meet Our Team
---
Dr. John Gemmer

Faculty Mentor
Professor of Mathematics at Wake Forest University
Dr. Gemmer's research interests: analyzing and developing mathematical models of phenomenon in the physical and biological sciences.

Maddie Arnel

IRIS Founder and Organizer
Senior at Wake Forest University
Sociology major with a health concentration, pre-med,
with a minor in Italian

Addie Harrison

Co-organizer
Junior at Wake Forest University
Interdisciplinary major in mathematics with a chemistry concentration
Noah Meyer

Treasurer
Sophomore at Wake Forest University
Dual major in Physics and Applied Mathematics with a minor in Computer Science

Kate Moore

Outreach Coordinator
Teacher-Scholar Postdoctoral Fellow at Wake Forest University
Kate's research interests: Discrete Dynamics, Combinatorics, Applied Probability
Powered by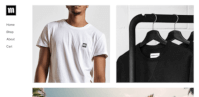 Create your own unique website with customizable templates.